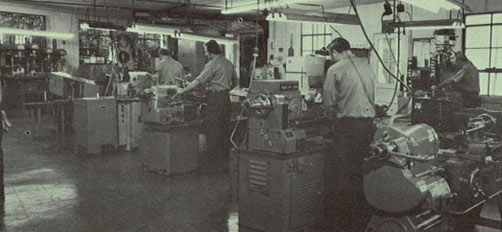 Hardric Laboratories
was founded in 1954 in Waltham, Massachusetts, to make material test specimens for the Massachusetts Institute of Technology (MIT) quickly expanding its customer base to many research facilities around the world.
Gradually, Hardric migrated into prototype machining work and, in the mid-60's, began focusing on machining pure beryllium acquiring many new skills and capabilities along the way.
In 1980, Hardric developed its process for polishing bare beryllium for use on highly accurate scanning mirrors and other applications, and has been improving and refining its process over the years.
In 1997, Hardric outgrew its Waltham facility and moved to North Chelmsford, MA. More recently, Hardric has added sophisticated optical and mechanical test equipment and many modern machines capable of meeting the tightest tolerances.  See our Precision Machining page for more information on our equipment and capabilities.
By 2019, Hardric had continued to invest in advanced machining, optical, and test equipment which eventually grew to the capacity of the North Chelmsford facility. In August 2020 it relocated to its current location in Hudson, NH. The new building has nearly double the square footage and Hardric has continued to grow with new equipment and technologies. It has focused on 5-Axis machining. More details can be found on the precision machining equipment list page.
Hardric's quality system has been registered to ISO9001 since 2011 and, in 2017, was updated to ISO9001:2015.